Sometimes you just want to run away and join the Circus! Blossom made sure I was ready to go with her gift for the En'Meshed into Spring Event Item. Starting location for the Hunt: HERE
This Costa Del Sol, swimsuit comes in an amazing 8 colours. They are on an Omega applier system, so they will work for any mesh body that accepts Omega appliers.
Be sure to check out the detail picture below for all the great colors and more shots of this super cute bathing suit/leotard.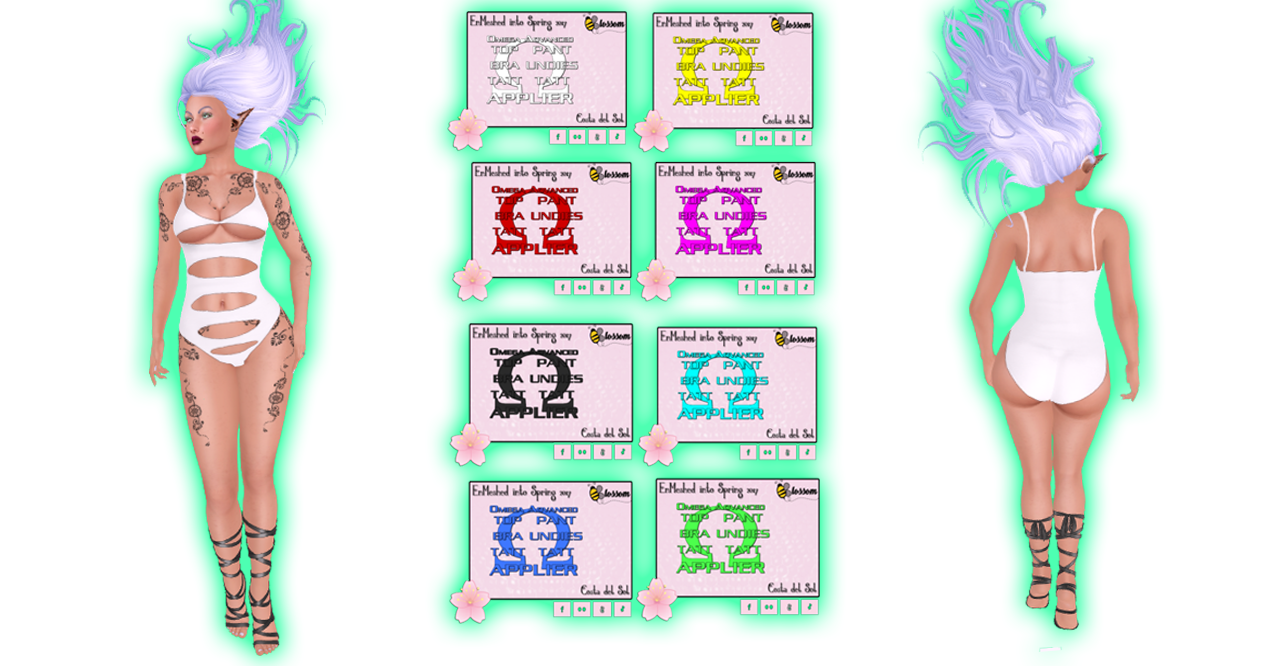 Sangi Details:
Body & Feet: Maitreya Lara
Shape: Sangi's Own Creation
Head: Catwa Jessica
Ears: ^^Swallow^^ Elf Ears
Skin and appliers: Paper Rabbit Willow and Cream Appliers
Eyebrows and Makeup: #Adored siobhan brows – rainbow brite edition {catwa} wednesday lips – cabernet edition {catwa}
Hands: Vista Bento Hands Final Female
Hair: ~Tableau Vivant~ Vivids+Pastels – Hairplay.Front Blow (Now at the ARCADE)
Leg Wraps: Fri.day fri. – Reverie.Wraps (Pewter)
Body Tattoo: Izzie's – Metallic Floral Tattoo
Ring: On a Lark *OAL* Lover's Ring Hers – Forever and A Day Silver
Pose & Prop: Verocity – Performer Hoop with Poses
Circus Tent: Aley Mart